Summer is around the corner and time to read is rare. So I decided to give you the short version of our 4 weeks trip in Quebec to get some inspiration.
We started our trip in Montréal with a fully packed normal sized car, a xxl roof top box and 2 kids. Ready to explore!
Baie Saint Paul
Our fist stop was camping du Gouffre in the Baie Saint Paul area. It was a great choice to relax, have the kids out in nature and to discover the region a little bit. The region has a lot to offer, such as:
L'ile aux Coudres
Perfect for a day trip! The ferry takes you, at no extra cost, from Baie Saint Paul to the island. Besides walking and relaxing there are two main things you can do. First you could or should rent a quadrical at vélo coudres. It is a great way to explore the island and it's funny! Second if you are into kite surfing you should go to Souroît Aventures. It is also great for a snack break by quadrical, this is what we did.
Baie Saint Paul town.
This little town is quite, chilly and full of little shops filled by products of local artists. It has a few galleries and open air concerts in summer. As it is part of the Charlevoix region, you should try some local cheese made in Quebec! Yammie! Our big one found her little peace of industrial art there, sadly it didn't fit in our car anymore. 😉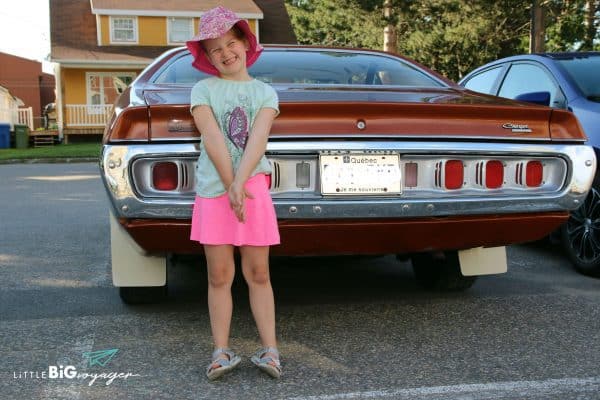 Lac Saint Jean
Beautiful !!! Close to the fjords of Saguenay. The lake itself is huge and offers enough to not get bored in weeks! Around Lac Saint Jean you will find tons of campgrounds, parks & outdoor activities. The shore of the lake has a length of about 430km and offers something for everybody's needs. Those who are interested in wildlife I highly recommend a visit at Zoo Sauvage St. Félicien. We had a lot of fun and learned about nature and our Quebec wildlife at the same time.
Archipelago de Mingan
I am still running out of words for this gorgeous place of earth! This is the place to be once in a lifetime in Quebec! This piece of earth is perfect for explorers & adventurers, little & big ones! We spent 3 days here, way to less! We rented a roulotte (RV) at the campsite "La Minganie". I recommend this, as tent camping with small children can be challenging due to the cold wind at night. A must do is a boat ride to some of the unique islands. You can rather book a tour at the camping, this is what we did, or you go to Havre Saint Pierre and start there. Flora and fauna at the archipelago de Mingan, which also is a Canadian National Park, are very special and impressive. So take your wind jackets, a head, gloves and go!
Gaspésie
Traveling the north shore we had to take the ferry to reach the peninsula of Gaspésie. Those who choose the south shore can skip the ferry or you take a bus, if you don't wanna drive yourself. No matter how you reach that part of Quebec, you won't be disappointed. Gaspésie is great for everyone.
We rented a house in La Martre, a small village next to Sainte Anne des Monts. Famous for it's light house, rocky shore & beaches are only a stone throw away. Sainte Anne des Monts has a discovery center, perfect for rainy days. The National Park of Gaspésie starts just a couple of minutes ride out of town. Out there hikers, bikers, canoeists, fisherman & "relaxers" will be satisfied. In case of you need a break from nature you could head to one of the towns or villages to get some nice food or inspiration by local artists.
Cap Bon Désir and Les Bergeronnes
At and around Cap Bon Désir it is all about whale watching. Between Tadoussac and Les Escouminis you are at THE hot spot! The only thing you have to to is: take your time, make yourself comfortable at the shore or at a boat and observe the water! For the really brave adventurers among us, they offer bear watching tours, too. We went there twice in 2 years and got thrilled for every whale we saw!!!
List not completed! There is much more to see and discover in Quebec. After traveling in Quebec for 2,5 years, I still feel like I wouldn't have seen a lot. Though I saw more than many of my friends here have seen in many more years. Quebec is beautiful and totally underrated! It is 100% child friendly. Has lovely summers! So pack your car, grab your family and start your own quebecoise travel adventure! For more information about each spot we've been, just follow the links and read the detailed version!