Getting to Camping Dam-en-terre/Alma and first impressions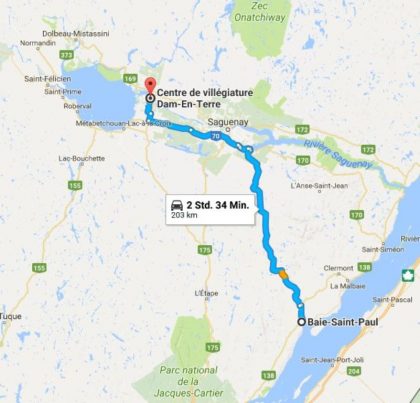 Next planed destination: Camping Dam-en-terre in Alma at Lac Saint Jean. Having a look at the map it is obvious, that we choose a closed by second stop. 2,5h is a kind of puddle jump here. Knowing so we didn't stress ourselves on leaving early at Baie-Saint-Paul. We almost reached noon, when we finally were ready to leave. This was not only the result of being slow, it was planned to give little J lunch to guaranty a 1 to 2 hours nap.
Why we choose Lac Saint Jean and the campsite? Our research online, reading travel guides and asking around didn't leave a doubt, that it must be beautiful up there. The Lake itself, the surroundings and the nearby fjords. Dam-en-terre was choosen by the opportunities for big J and easy access with baby and stroller. (Nearby you will find campsites with more quiescence and solitude, but more difficult to reach.)
Although we new, it will be a more busy campsite we were a bit disappointed when we arrived. Whereby we only means, me and my hubby. Big J was suddenly overjoyed! She spotted the big pool area, the little beach and the playground right away. Hard to hold her back.
I went for registration and got the number of the parcel. Driving there we knew it is not what we expected from studying the map. Yes the parcel was big enough, but completely open. No bushes or any other visual protection between us and the camper next "door". Not that cozy feeling of us being out in nature on ourselves. But one thing outweigh it. First row lake view. Exchanging glances, a nod of assent and we started the set up.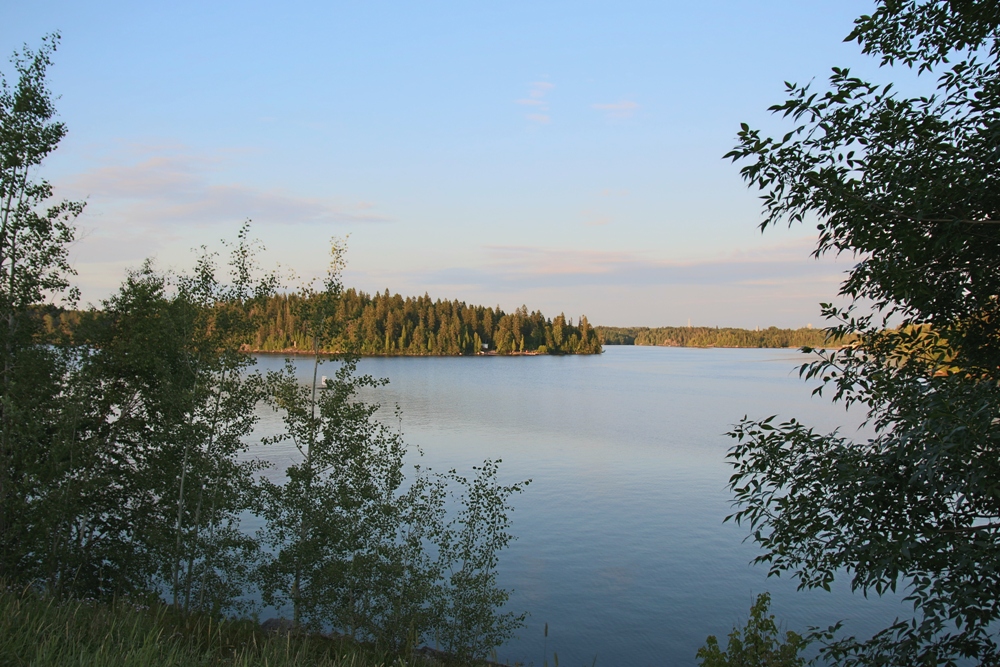 The big one got her scooter and started exploring the area on her own, while the little one was happy sitting on the lawn, playing and babble.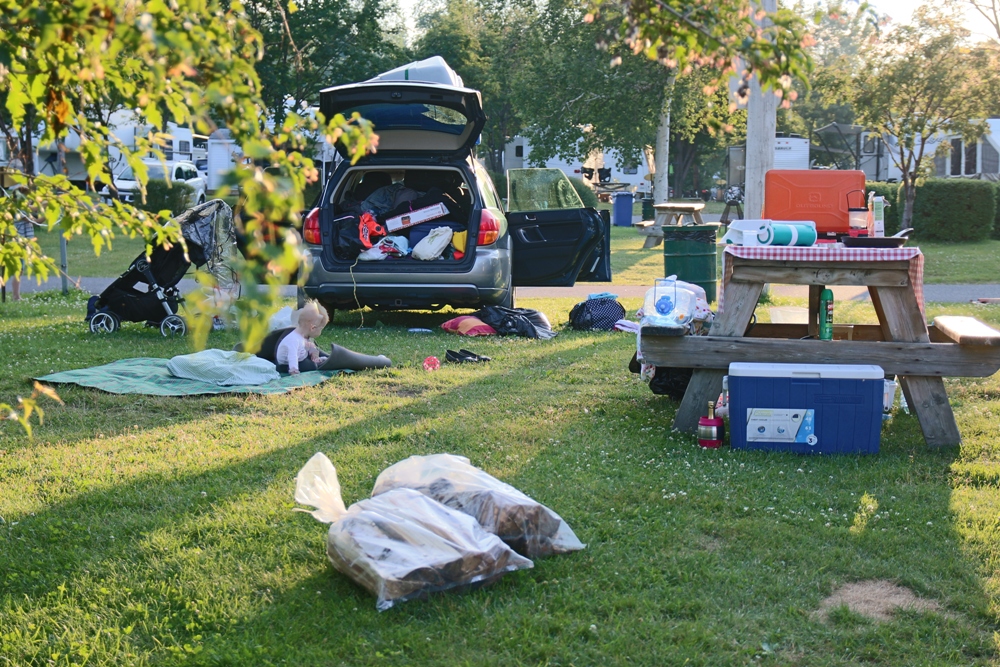 Yes this is what it's look like when you only have a small car and a lot of equipment. During the pitch up of the tent, we decided that it is time to buy a bigger tent. At least to be more organized during the stay and have an opportunity for the girls in case of a rainy day or when the mosquitoes come out.
At this point one hint for you: Be aware that at the moment sundown starts those common house mosquitoes start there attack. Close to the water nothing unusual, but the intensity was unexpected. Sometimes they are accompanied by there little friends called Black Flies. Mosquito spray with deed, a special bug screen wall to cover the eating place and mosquito protection for the stroller are essential. Before you convict us, long sleeves are not enough and for the kids we made a mix of creme and lavender, which wasn't enough for us adults. Around 9:30pm you are save again.
First day – campsite chill out & tent buying
As mentioned Dam-en-terre has a lot entertainment to offer.  So towards our original plans we only stayed at the site and went to Alma to buy a new tent.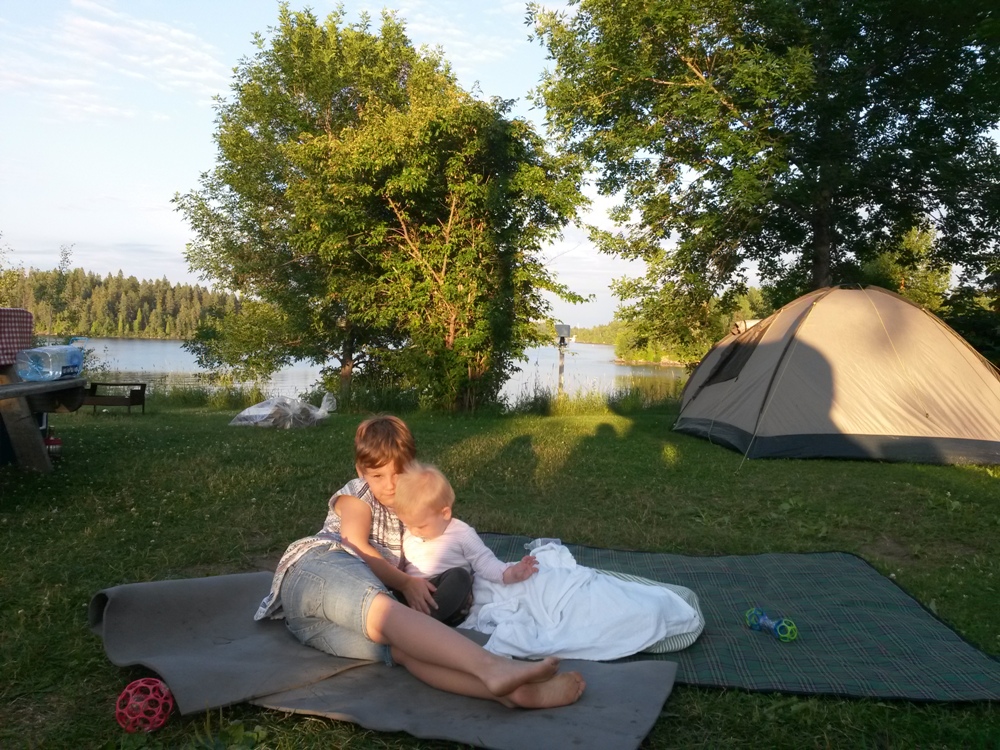 While one of us was taken care of the girls, accompanying them to the pool or playground, the other half spent time online on searching for a big tent and places to go for.
After lunch we put the kids in the car and followed our mission. Regarding to this fact, we didn't look around and just concentrated on the two stores. So honestly no hints for Alma itself here.
A few hours and a couple of hundreds dollars later,we were proud owners of a new tent and double sleeping mat. Having an obligatory coffee and doughnut at Timmy's, we headed back for the pitch up.
I really have to say how lucky we are with our girls! They played together or each by herself. It only took like 30 min to built up the tent. Once it was placed I was overjoyed and impressed my it's dimensions. I felt like the QUEEN of my castle. Standing up straight – no problem! Storing everything and having a play area for the girls – check! Placing our new double sleeping mat between the girls ones – perfect. I was curious for the night to come! Sometimes a small change makes a big difference or should I say a huge tent made the huge difference. LOL
Afterwards I realized, that I took no picture. I found one of our tent-castle online, so you can feel with me.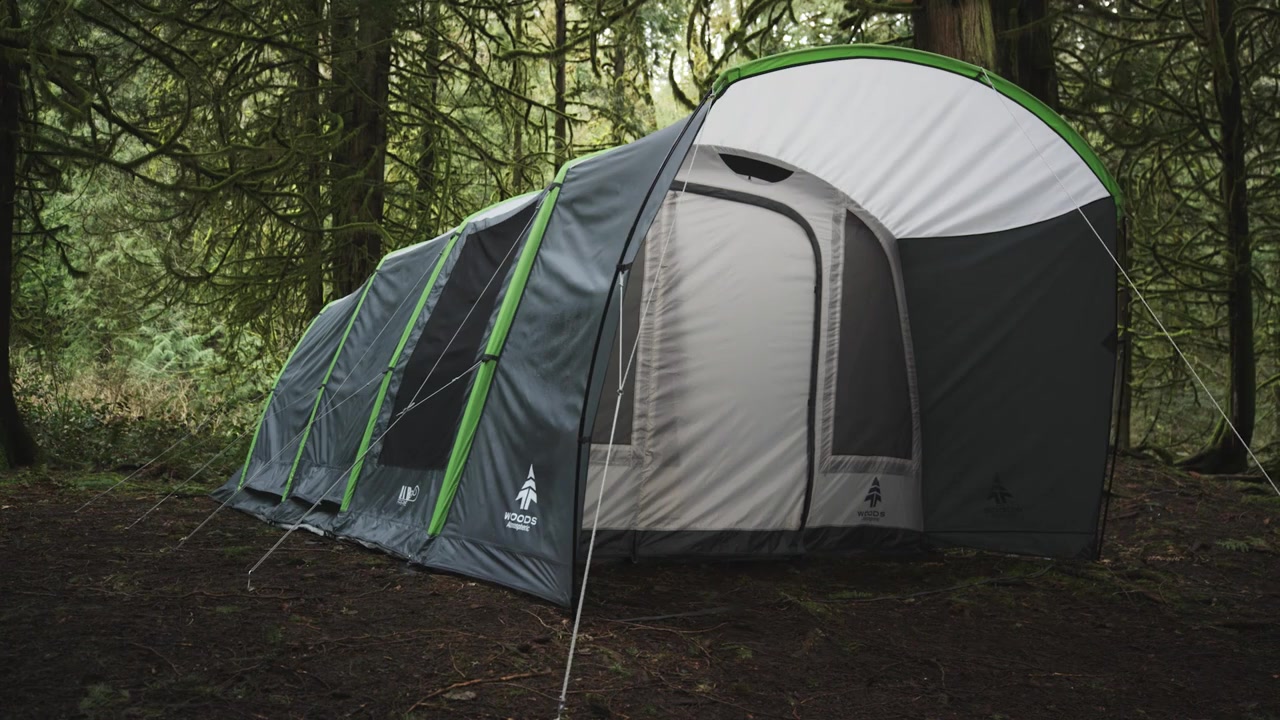 Our evening was quiet and relaxing. Campfire, wine and mosquito net. For those who speak French. During summer time the resort/camping offers dinner cruises with theater performance! It must be gorgeous to be on a boat for sundown. The active ones among you have all possibilities like kayak renting, bike renting, too. And the lazy bones just stay at the beach, pool or community center.
Second day – Zoo Sauvage de St. Félicien
Visiting zoos I have always mixed feelings. But everything has two sides and we only heard good things, so we went.
From the Campsite it took us almost an hour, but worth the drive! Plan enough time going there and stop from time to time. The lake and it's surroundings are beautiful. Lac Saint Jean is impressive and huge. It is one of the biggest natural lakes in Quebec!  Its surface is about 1000km² and has round about 430km of lake-shore.
Zoo Sauvage is devided in two main parts. The "regular" part where you can see the animals in their non natural environment and the Nature Trail Park. The Nature trail Park is what we were most looking forward to.
We knew the the train ride through the Nature Trail Park will last about an hour, so we scheduled it at the end of our visit. Regarding our mixed feelings we were positively surprised. Stepping in the zoo, first you do not feel like being in one. The terrain is rambling, the space in between the separated areas was quite large. Also the cages and animal enclosures themselves where quit spacious comparing to many other zoos.
Big J enjoyed all the animal feeding sessions, splash pads and snacks along the way. We had to rush a little to catch the last train for the Nature Trail Park. And yes of course we made it!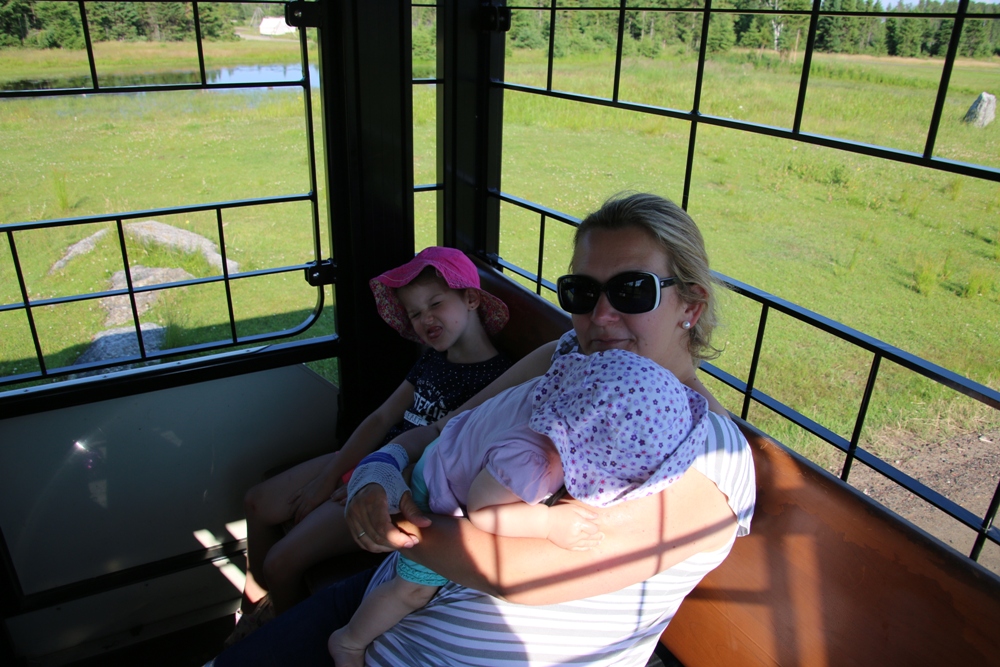 I was waiting eagerly what would be behind the fence. First of all I didn't expect what came up. Entering the area they bring you back to the times where this was the "real prairie". They rebuilt houses of wood, you pass through in the train and it is like an exhibition of the former real life. At some point the train stops and some staff perform a little scene to explain the history by pretending to be back at that time.
You are surrounded by nature, animals and tepees. This was far from what I expected, in a positive way! See what presented itself to us:
If we wouldn't have been sitting in the train, I would have forgotten that I am in a part of a zoo. All of us enjoyed this one hour journey. They had so many different kinds of animals and we saw them all. Just like American Bison, American Black Bear, Moose, Grey Wolf, Woodland Caribou, Snow Goose, Prairie Dogs … We were glad we followed the recommendations and went. It was a really nice experience. It was nice to see a Black Bear that close, not sure if I would have been that happy about without being protected in the train.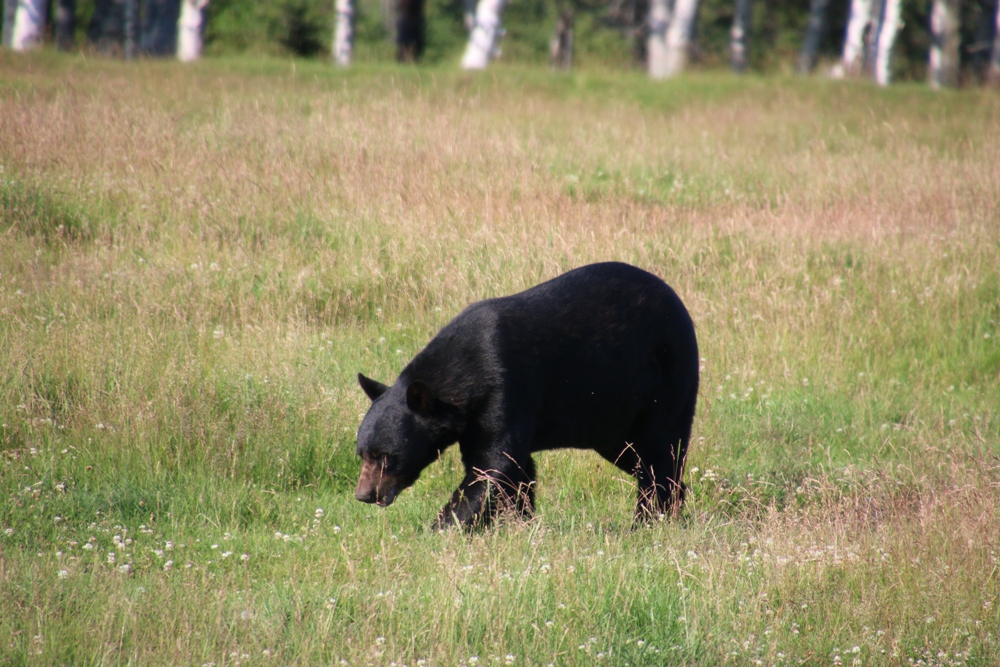 The zoo offers so much more! You can book a full day with different activities if you want. At night time you can come for Anima Lumina, a night time walk for the whole family related to the spirit of the Boréalie. They are movie nights and much more. Knowing we had to prepare to leave the next day, we skipped the night walk.  Believe me, even you are an adversary of zoos – you and your kids will like it.
We drove back right on time for sundown and got some amazing views over the lake and could even feel it's calmness.
Back at the campsite we had a wine at the fireplace and planed the upcoming route. The next day was chaotic, as it started raining when we packed the car. Lucky us the heavy rain only started when our things were already stored. So it was just us getting wet to the skin! But we survived
Next destination Mingan Archipelago – National Park Reserve one overnight stop in Baie Comeau included!
Facts & links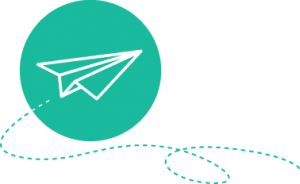 L – like lakefront
A – like animation for kids
C – like "Castle"
S – like Sauvage Zoo
A – like Alma (in Spanish it means soul)
I – like internet, free wifi on the campsite
N – like new double sleeping mat
T – like theater nights at Dam-en-terre
J – like Js like to travel
E – like energy is needed to travel with kids
A – like attacked by mosquitoes
N – like next big destination Mingan
http://www.damenterre.qc.ca/en/camping?lang=en_US