Discover Quebec –  idea & route
Let's step back first at point zero. The moment I found out I am pregnant, only being in Montréal/Quebec for 3 months. That was challenging. Getting to know a new health care system, overwhelmed by the situation itself and not knowing anything about the good things to come. Long story short, we found out fast, that my hubby will be eligible for paternity and parental leave her by the time of birth. We were happy as we suddenly associated extra time for travel with it. My hubby first struggled to apply for it, as he just started the new job here. Within the time the doubts were gone and decisions made. Five weeks in March and another two months in summer. No regrets! Some chances only open once or twice in a lifetime, so you have to take them!
March we spent in Nicaragua and Panama. The summer was meant to be spent in Quebec. The only time of the year when you won't get chilblains while camping. For us it was taken for granted to discover the region we choose to live in. Needless to mention that the province of Quebec is 4,5 times bigger than the country we come from! So the 4,5 weeks we planned even gave us only an idea of this beautiful province.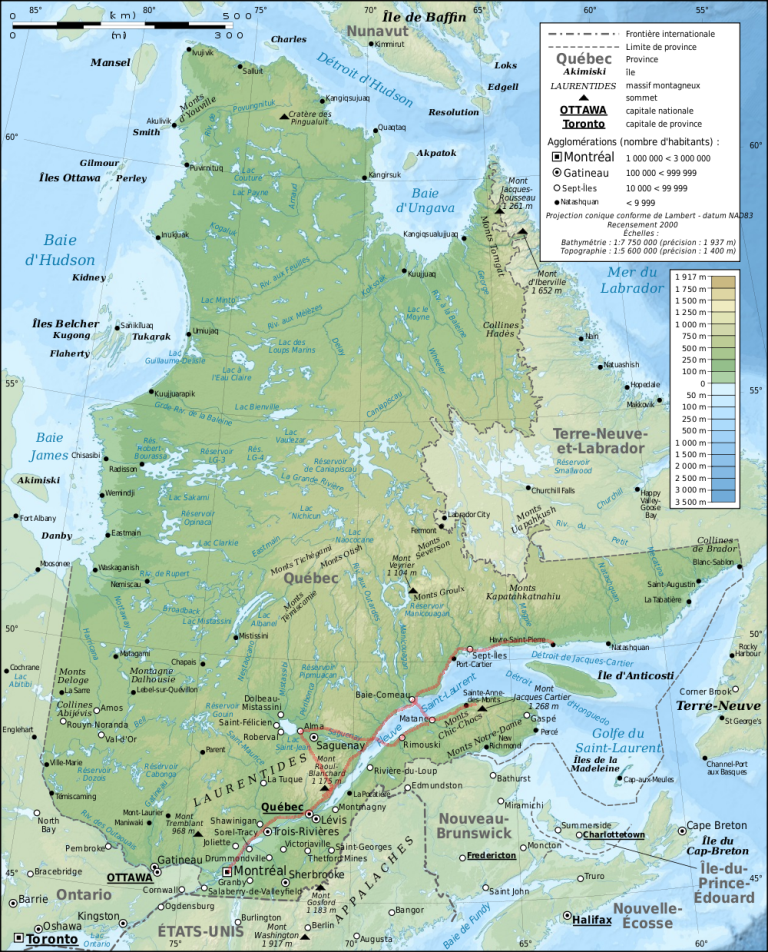 Montréal – Baie St. – Paul – Alma – Baie Comeau – Mingan – La Martre – Les Bergeronnes – Montréal (2770 km)
We did another 1200km in this four weeks. We went to Prince Edward Island, but only for relaxing beach vacation! It is great, but not Quebec 🙂 !
The idea was to go camping more than 50% of the time. The three Big Js love it, so we hoped to get the little one into it as well. Was kind of risky, but no risk – no fun. We traveled in peak season, so we booked most places in advance. I made sure to have the back up option of cancelling or re-booking without being charged. Which is btw not obvious here. I wanted to have first line with lake or river views instead of spotting the laundry room after wake up. About 3 days we had as a back up to change plans, stay longer or add a new destination. Not much, but something.
The trip was planned not to have more than 4 consecutive hours of drive, which means no more than 6 hours on the road to reach the next destination. (Including stops and the additional time you always need in Quebec. Due to none of the route planners calculate the bad road conditions we have here recently.) For longer distances we planned to have overnight stop-overs in B&Bs or Hotels. Not tent set up for one night only…
Due to the fact that we only have a normal sized car, we bought a XXL roof top box. Hallelujah, lucky us we acted with foresight. We used every square-centimeter of the car and the box. Kids were save in the back, but not a penny would have fitting in anywhere.
So we took off for our first destination:
Camping du Gouffre – Baie-Saint-Paul
Going there, we were following the recommendation of a friend who is originally from Baie St-Paul. Furthermore he has been at Camping du Gouffre several times with his family, so we trusted him. First night out for little J to come!
Comparing to the extensions of Quebec, it was a short ride from Montréal. When we arrived they had some open spots to choose from. We went for a stroll and took the best spot: Riverbank, next to the beach & in between trees.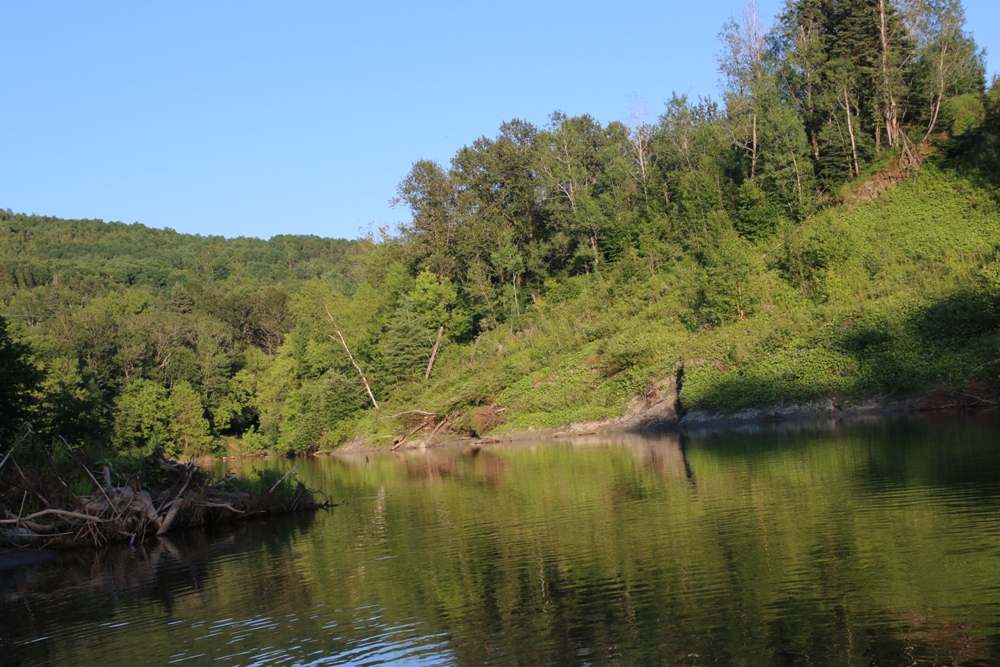 Pitching up the tents was fast. We had two: one to sleep in and one to store our clothes. Most important for me was – starting the campfire. This comes first, then dinner. After supper we sat down at the fire and completed our day.
Honestly we were a bit nervous about little J and the upcoming night, but for no reason. She literally slept like a baby. Kids are great! They adopt to new situations and environments much more easy than adults will ever do! Only me was a bit scared the whole night, not for safety reasons in general, but for not squeezing the little one while turning.
Yes a small Igloo style tent doesn't give much room, but also it doesn't let you freeze at night.
Believe it or not, nobody woke up earlier than 8 am! Even than it was the birds twitter which made us open our eyes, not a ringing alarm clock. We love camping! Being woken up by nature's sounds, opening the zipper and being right outside. That's what makes it special to us. Staying at a campsite doesn't mean to completely giving up morning routine. A good coffee is what I need first. That's why the my Spanish original is essential and accompanies us always!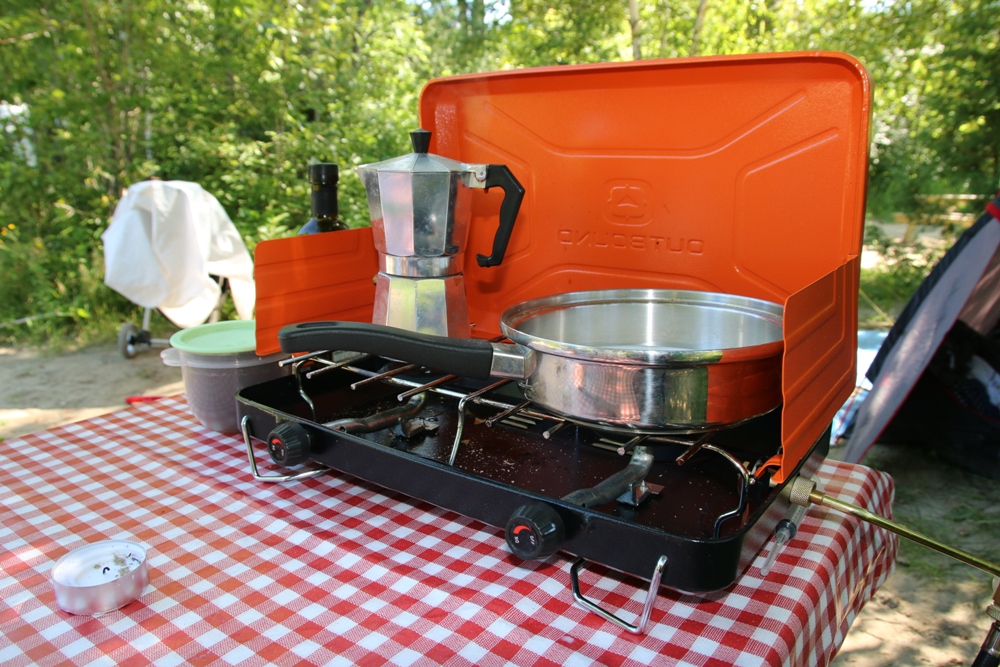 The first day we commuted between playground, beach, mini-farm and swimming pool! Yes they even do have a pool including a little slide and buoyancy aids. Making ourselves comfy in the beach chairs and studying the the info brochures we grabbed to plan the upcoming days. That´s pretty much what we did the whole day. It felt so good to relax and take a sunbath. Kids were running and crawling around. Exploring the nearer surroundings and seemed to be happy like us.
Du Gouffre really offers a lot itself to just stay there, but on the other hand it is close to many sightseeing spots.
L'Isle-aux-Coudres
Day two was meant to visit L'Isle-aux-Coudres . Our friend told us that the bike rental station is known for it's quadricals. We thought it would be fun to explore the island by bike, chauffeuring the girls around. At the tourism info center we got the schedule for the ferry, which took us there at no extra cost! It only goes twice per hour so calculate a bit of time, you never know how long the line up is. We were the second car not to manage the ferry so we waited in the sunshine.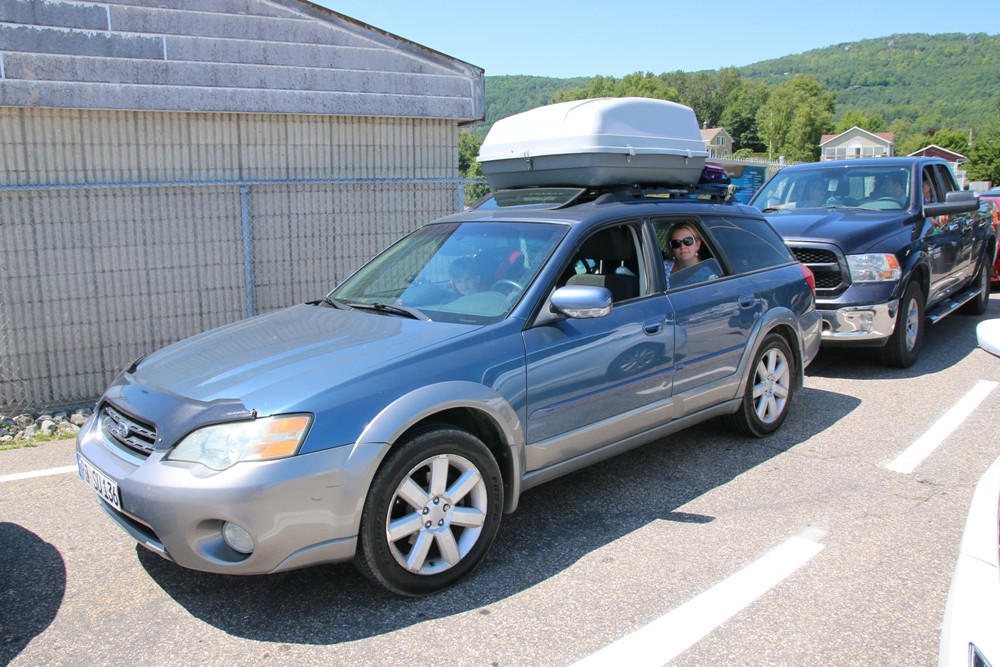 The island is located on the St Lorenz River and it's scenery is great. It is pretty small, so it is perfect for a day trip, but worth a longer stay, too. One side is flat and the other hilly. If you wanna do the round trip in a quadrical, make sure you are in great condition! Those vehicles have no gearshift and up the hill looks easier than it is!
Nevertheless we went strait forward to the rental station of "Velo-Coudres". They are located at 2926 Chemin des Coudriers and have no website yet. It was a perfect day. Sunny, not to hot and only a bit of headwinds. We prepared ourselves, took some snacks, "fixed" the kids and took off. Knowing my own fitness level and the fact we arrived late, we planed only the half island tour. I prepared myself to have a strenuous ride. Surprisingly I was better in shape than expected and it only made us sweat at the slopes.
Our direction was a kitesurfing spot. We were told, that they have a little snack bar where they serve homemade snacks made of local products. We rewarded ourselves with savory crepes and ice cream to cool down!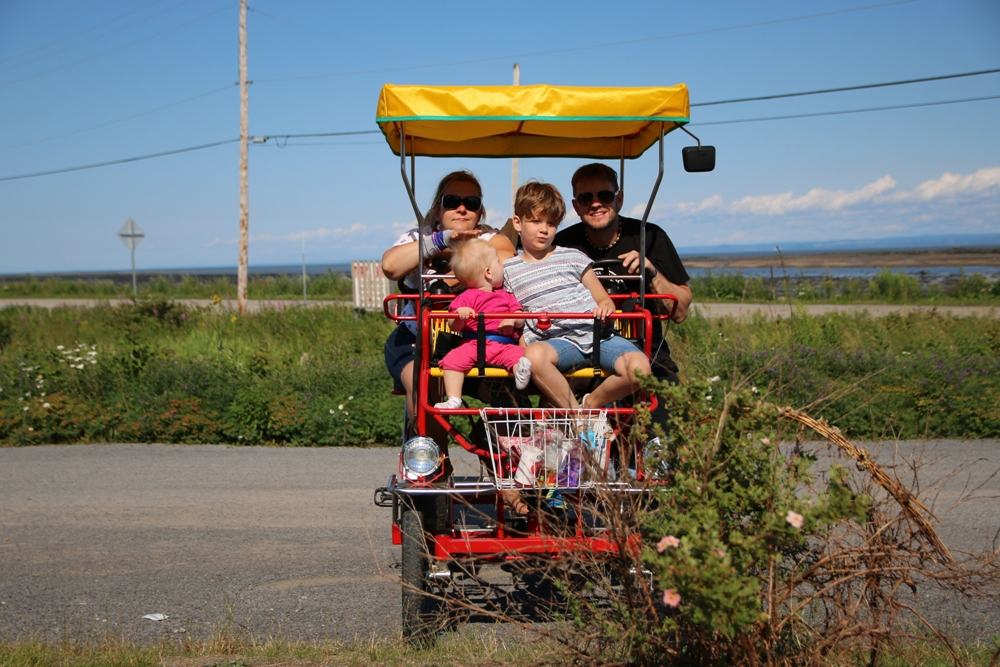 The St Lorenz was calling for a walk on the rocks, as it was ebb. We checked the conditions and the scheduled times for ebb and flood that day and sadly had to renounce. The lady at the snack bar told us we did wise. Many tourists underestimate the rapidity with which water comes back and overestimate themselves. It happened more than once that people had to be rescued by boat, while waiting on the rocks. The scenery is beautiful. Typical for mother nature appearing innocent and than showing up with all her power!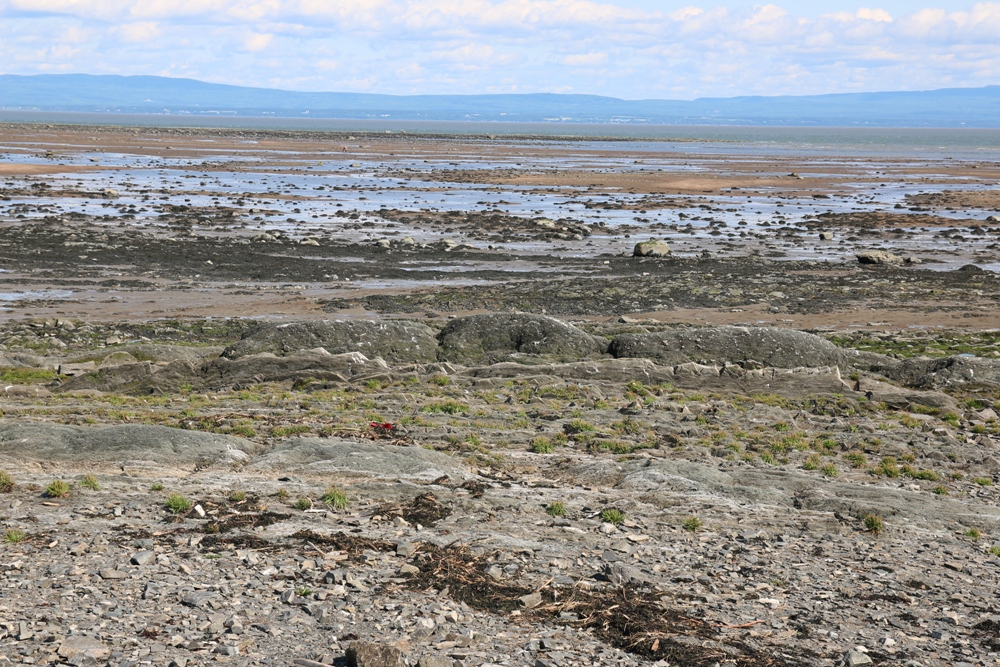 Just to give you an idea. It looked like this when we left and when we arrived at the rental station 30 minutes later, water reached the river bank!
Us we had fun riding back though. Little J felt asleep, caused by constant vibrations. Big J had to hold her hat, not to be taken away by the airflow. She kinda tried to challenge us to drive faster, by imitating to be a drill instructor and joking on our ages.
If ever you go there, do it it is perfect as a family activity and you can do it with children at all ages.
On our way back we met friends on the ferry and they invited us for a beer to enjoy the sundown over Baie-Saint-Paul. No way to decline such an invitation. We went with them, enjoyed the view and the beer surrounded by nature. And big J spotted a little friend, but see yourself.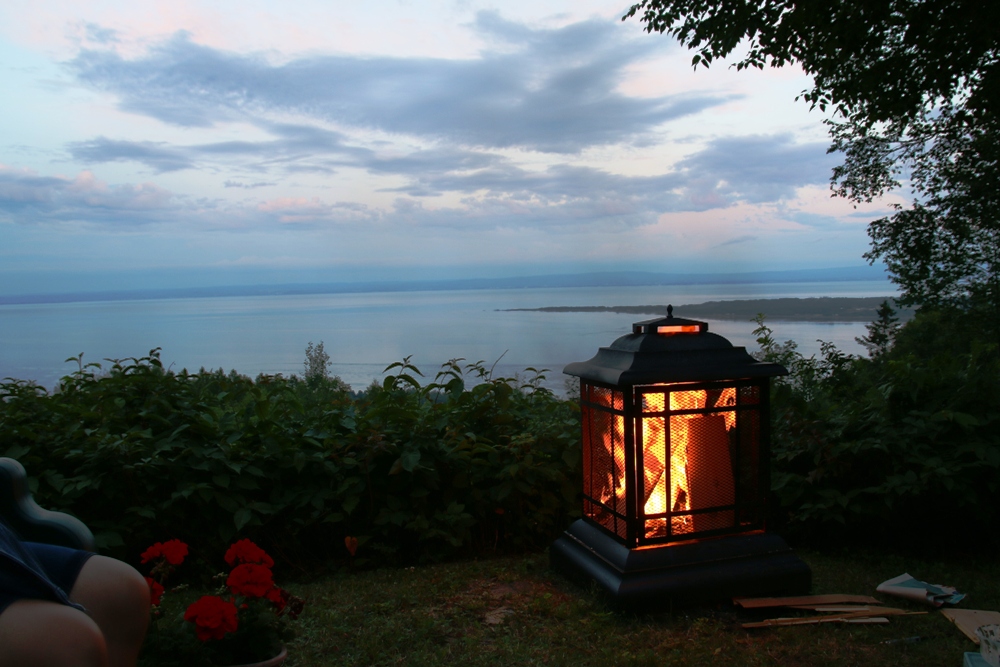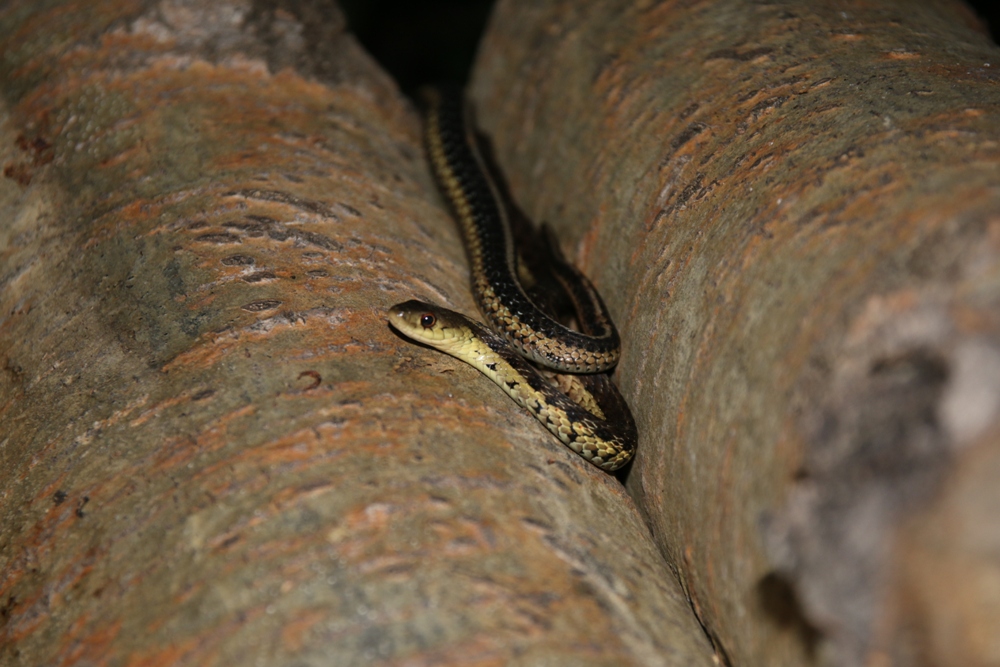 Back at the camp ground we all went straight to bed. Making sure we are fit for the next day.
Baie-Saint-Paul (town)
The plan said activity! Getting a spot on the river-canoeing-tour was the idea. Flexible as we are, we changed plans and did the lazy bones version. Which means beach, playground and later on a stroll in Baie St-Paul-town.
The town is part of the region of Charlevoix. Charlevoix is known for it's cheese. For cheese-lovers like us, it was obligated to try it! Also it is known to be an artists city, which has galleries, open air concerts, hand craft shops and hand made products of all types. Strolling around we could feel the good and inspiring vibes. We found our own special piece of "industrial art" and big J just didn't wanna leave it.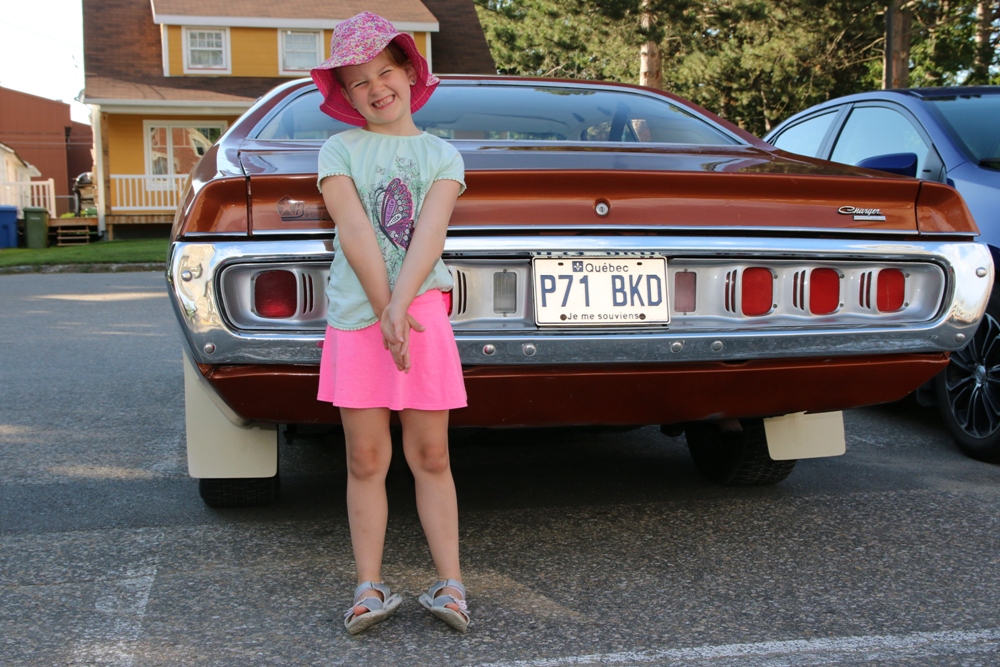 Walking makes hungry! Starving Js are not a good company so we set in at L'Orange Bistro. The terrace looked welcoming and was stroller accessible. The stuff and the food didn't disappoint us. Of course we choose a platter with local cheese and cold cut. Yes they can do cheese. Being German we know what good cold cut is and it seemed they learned from us :-). Due to the heat and inner summer feelings we went for a pitcher of sangria to refresh ourselves, very tasty, too. Not to leave the question open – great cake & coffee are also on the menu.
Back at du Gouffre we started organizing the chaos, to leave on time the next day. Choosing this spot was a perfect decision and gave us an ideal kick off for the next 4 weeks to come!
Next stop Alma – Lac Saint Jean
Facts & links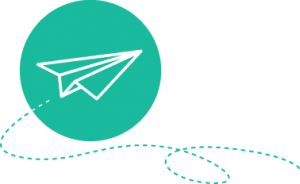 B – like Baie (bay)
A – like artists town
I – like Isle-aux-Coudres
E – like ebb & flood
S – like St. Lorenz
A – like activity
I – like Igloo style tent
N -like -new places
T – like tent
P – like parental leave
A – like Alma next stop
U – like underestimated
L – like long distances
http://www.tourismeisleauxcoudres.com/
https://www.facebook.com/isle-aux-coudres-kitesurf