Valparaíso was on my bucket list since university. We had a partner uni over there, but for some reason I finally didn't go, but don't remember why :-). So when we came up with "testing" Santiago de Chile, I kinda forced my family to go there. And here is what we did.
Apropos
Valparaíso area was discovered in 1536 and founded as a city in 1544, by the Spanish conquerors. For more than 300 years it was the main port of South America and second most important at the whole West-coast, besides San Francisco. When the Panama Canal was commissioned in 1914 Valparaíso lost its status as a major harbour town.
Regarding the fact, that it is located close to the Peru-Chile-Trench the city of Valparaíso is vulnerable to earthquakes. Only in the last 8 years they had two big ones.
Based on it's geographical location most of the houses are built into the hills. Therefore Valparaíso is now known for it's labyrinth of streets, cobblestone alleyways, steep streets and connecting stairways. As well as for the colourful buildings, street art, funiculars as public transport and the trolleybuses.
In 2003 the city became a World Heritage Sight, to understand why you have to come and find out!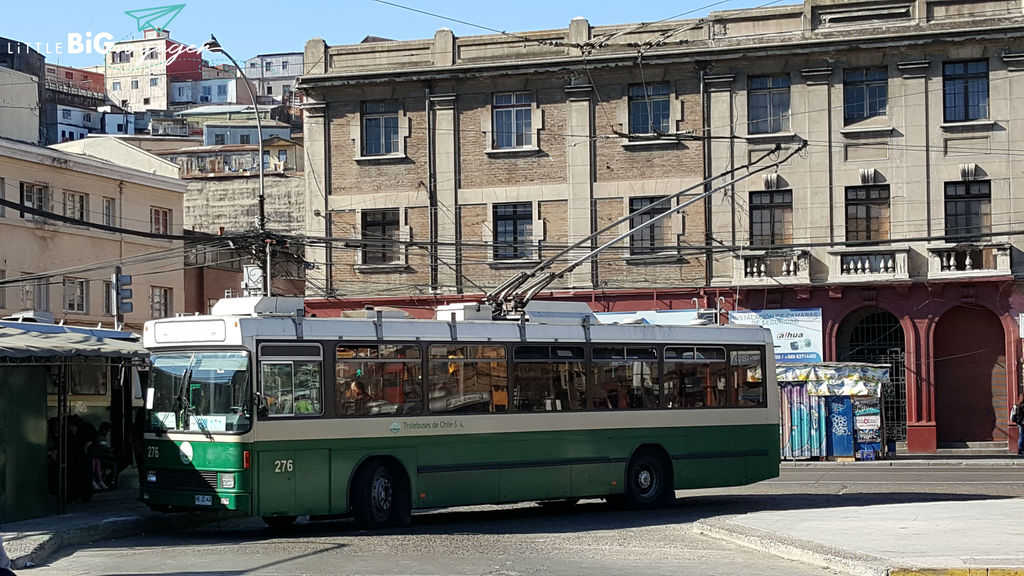 Our first impressions
Knowing we have two kids with us and not much time, we didn't have much of a plan. We booked the hostel in the morning, took the bus and went. Arriving at Valparaíso we called an uber to get to our accommodation. Then we just grabbed the small map at the reception and started walking. Up and down and moving all around. We drifted wherever it took us. Accidentally we found one of the main spots for a harbour view – lookout 21st May. Indeed the view was great.
Climbing up and down the stairs we found a nice alley with an art gallery, restaurants & a delicious ice cream shop.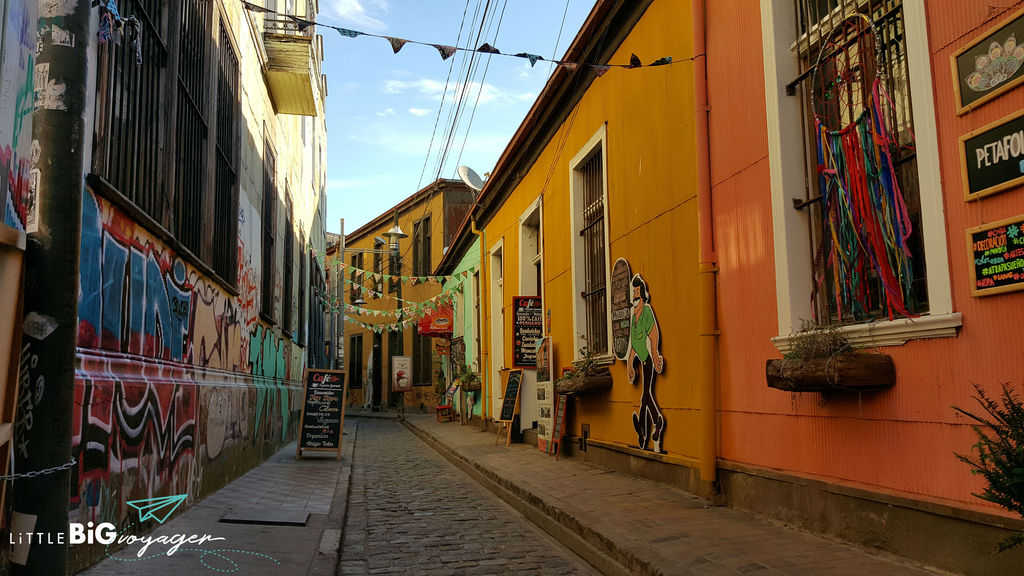 Strengthened by the ice cream we continued our "work out". To be honest upon arrival we doubt to find the charming side of the city, everybody was talking about. Most houses looked shabby and it was loud and dirty in the center.  Once we started our walking tour, the point of view changed. For us Valparaíso started spreading it's charm only by looking "behind the scenes", means getting deep into the jungle of narrow, steep, cobblestone streets and alleys.
Strolling around you will find amazing murals, but also critical ones or those which encourage you to think twice about certain things. I am pretty sure those murals and the whole street art here are covering a lot of the ailing condition of the buildings. Without I doubt they would have so many tourists. But nevertheless they did the best out of it and we have something to marvel at.
Surprisingly Big and little J didn't complain much about taking so many stairs, I bet the colouful paintings distracted them – lucky us. So we ended up having dinner at a lovely place, I forgot the name, with a 3-course-menue at an affordable price, which tasted good. Nothing for granted in Chile (Prices are high and tasting is "normal"). I had a cerviche, fish of the day and a piece of a cake with local ingredients, it was good, but the ice cream was better LoL.
We ended the day with big J posing in front of one of the most photographed wall paintings of Valparaíso (her wish). Kinda symbol for the way of living of most people coming here.
Valparaíso the 2nd
The unexpected happens often. So the next morning we canceled all our non existing plans and stayed almost until noon at the hostel to do paperwork. Good bless the internet, printers, scanners and USB sticks! We made it on time for check out ;-).
We called an uber again and luckily we got a very knowledgeable driver, who told us a lot, without boring us. My hubby asked him where he would go to get the best view of the city and if he could bring us. Best invested money! Once we drove up the hill I got a little scared, it felt like the car would fall backwards any moment. The incline was super steep. I have never ever seen one like this before in my entire life. The view was amazing and the ride back was like sitting in a roller-coaster. Before starting he ask me, if I were religious…
We all survived and enjoyed the ride and a billion nervous butterflies in the belly. Before we headed back to Santiago, we had a stroll to the port. Don't be disillusioned, not to find a cute little port with sailing boats and restaurants. Remember it is a harbour town. The real reason we went was, that we were told to find a small colony of sea lions who live here. And indeed no disappointment about that. They were lying around, taking a sunbath and fighting for the best spot from time to time. The kids could run around (no cars) and didn't get bored while waiting for the bus to depart.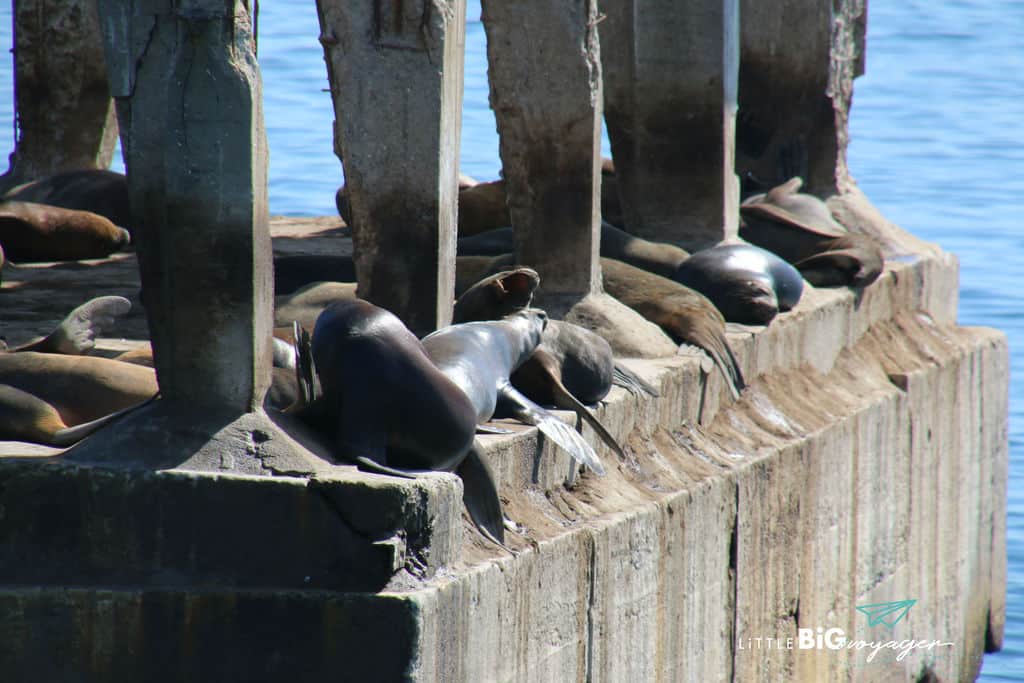 As you can see we got the most out of 24 hours in Valparaíso, with two kids and no plan! You can do so, too! Come and go with the flow!
Arrival & what to bring
Taking the bus is best option in my opinion! Streets are narrow, steep and kinda labyrinth. You better walk, take a taxi or use public transport! Coming from Santiago you can choose between two main companies, Pullman and Tourbus. We choose the second as they had the better price those days. Prices vary, depending on weekday and departing time! Weekends and holidays are the most expensive. I recommend to book a seat for each family member. It is only 1,5h, depending on traffic, but easier that way. Also I suggest to buy a return ticket, if you have certain times when you have to go back. If not buy a "blank" one and go to the terminal to get your seat when every you want to go back. That way you save the price, but you might have to wait 1 or 2 hours to get on a bus. Your choice.
LEAVE your stroller/buggy at your accommodation. Take your baby carrier! As mentioned, steep, cobblestones, stairs… Little J walked a lot, once she got tiered we carried her! We had the stroller with us, but it was useless and just unnecessary burden.
Having that said: come, enjoy and take a stroll!